Olive oil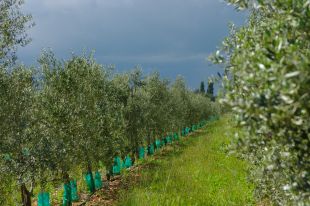 The Olive Orchard
Planted in clay limestone soil with good drainage, the olive tree is well adapted to a dry soil and a windy climate such as that of the Crau.

Since 2003, the 12-hectare orchard has been planted with about ten different varieties chosen for their agronomic and gustative qualities. The main varieties are the Aglandau, the Bouteillan, the Arbequin Arboussane and the Koroneiki. Since October 2009, we have been in the process of converting to organic agriculture, certified by Ecocert. The method of cultivation is of trees in rows which allows us to harvest entirely by mechanical means.


Extra Virgin Olive Oil
Harvested at the moment of aromatic maturity between the end of October and the end of November, the olives are crushed in the 48 hours following harvesting at a mill near St Rémy de Provence. The mixture of the different varieties, each with its own characteristics, gives an oil that is 100% natural, very light and fruity with herbaceous, artichoke and almond aromas. Consumed hot or cold, it goes well with meals for all occasions.

The average production quantity is 5000 litres per year. The label "Extra Virgin" is guaranteed by regular analyses.


Markets and distributors
At the Mas de L'Aqueduc, all year round you can come and taste our selection of oil which comes in several different types of container. A sales area is open to visitors 7 days a week.

We are also present at several fairs and markets mainly in the local area. We also have retailers throughout France ; do not hesitate to contact us to find your closest one.